---
What's been going on?
---
October 2003
The first show I did with the Stillwater Players was a hoot and I'm in rehearsal right now for the next one they are going to do in November - "Kiss or Make Up"

Click to see it large enough to read
For years a gentleman named Willis "Grandpa" White has been doing a warm up act before the shows open and for this show Willis and I are going to do burlesque skits from the good old days. He'll be the baggy pants comic and I'll be the straight man. We've been working on the act for a few weeks and will raring to go by opening day. For more information on the show please go to their website - http://home.nycap.rr.com/spao
The Incomparable Duo of Measures & White
Hope to see some of you there, after shows all the actors personally say, "Hello and we're glad you came to our show" type of stuff. If you can make it be sure and introduce yourself to me - and all the other actors.
"Kiss or Make Up" is over and I'm taking a break from being on stage for a few weeks. My future granddaughter has a business called the Pet Wellness Center. They do grooming, pet sitting, pet taxi and doggie daycare and I've been running around to veterinarians, pet stores, etc. letting them know what we have available. I guess once a salesman always a salesman. And actually sales and acting are the same thing, you just have smaller audiences as a salesman.
---
OK - I'm starting all over again in show business. The other night I auditioned for the Stillwater Players Among Others to replace one of their members, Bea Girard who is appearing in an Operetta in Troy, New York, and I was chosen to play the Chef in -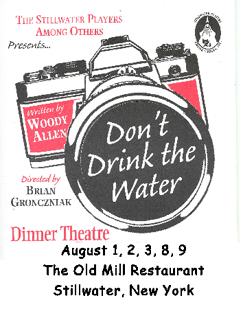 For more info just go to http://home.nycap.rr.com/spao click the Take A Stroll line and then Current Show
I'm really looking forward to the opening and will keep you up to date on how rehearsals are going.
+ + + + +
Second run-through with the full cast
---
Two weeks to go and I know most of my lines and can even make my entrances on the right cue

The show is getting to be more fun all the time. Hope any of you who are near us in up-state New York can come and see it.
July 28th and opening is fast approaching. It's absolutely amazing what theater people can accomplish - here are some pictures of the set being erected in a lovely room that is usually a Catering establishment - click them to see the larger version.
and all that hard labor produced this, still not completely dressed, stage setting -
These are shots from the Dress Rehearsal -
More info on the Dinner Theater and the show at
---
The Memphis Film Festival was a real hoot. There were 14 former movie and TV stars and "the Buddy" of the stars.
A group shot - I'm almost dead center with a really old guy leaning on my knees. I'll name the people in it alphabetically.

Lee Aaker, Rand Brooks, Joan Evans, Gary Gray, Brett Halsey, David Hedison, Suzanna Leigh, Gloria Marlin, Dallas McKennon, HarryMcKim, Jean Porter, Shirley Jean Rickert, Robert Scott and Jacqueline White

They had three different rooms showing 82 movies and TV shows over the three days and at least one of us were in every one of them. We would watch the presentation with the audience and then talk with them after. At the end of the festival they gave us unique plaques with a copy of one of our lobby cards imprinted on the metal.
A whole bunch of nice people came to the Festival and another whole bunch of nice put it on. Everybody who worked on it were absolutely great and made sure each one of us were comfortable and had everything we could wish for.
---
For their 175th Anniversary Clifton Park, New York honored a whole bunch of people who have lived in town - and are still living (I just made THAT part of the category) with a presentation of a Who's Who Honor Roll.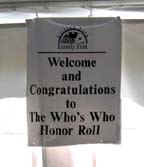 It was fun being part of the group that had people from every walk of life. And the only child star in the area.

This is a thumbnail so you can click if you'd like to see all the Who's Who'ers - and I'm in the top row on your left.
---
The Sons of the Desert Banquet was just great. Here's a picture of me mouthing off. Just click to get a better view

I had a really neat car to ride in at the Doodah Parade in Ocean City -

For the Classic Car buffs here's a shot of the whole car. It's a Nash Metropolitan, not a Rambler.

---
When I was a kid I was hooked on science fiction. People thought anyone who read science fiction was pretty weird so we hid the books inside comic books. Honest, you were fine if you read about Superman but should be avoided if you read Ray Bradbury. At that time I thought it would be great if I could live to see the turn of the century, but didn't expect to as 55 years old was pretty far over the edge and 70 could be mentioned in Ripley's Believe It or Not.
Well, here I am in the third year of the 21st century. Wow, how great it is.
Hope you all have a wonderful 2003 and come back and visit me often - and please send me an email whenever you can.
I'm going to leave the information about the fire on the page for a while in case people who are new to the website check in, but here is what's happened in the past few months..
I have a new wonderful new apartment and am in the process of moving in. It's a unit in a brand, new senior housing building. I've joined the Bingo and Bus group. I plan on being the one who stands at the curb and waves as they merrily move off to enjoy the changing scenery and the one who nods through the door to the community room at those concentrating on itty-bitty little chips - or whatever they use now. I haven't gathered too many belongings in my temporary abode and am still shopping for furniture, etc. GAD, I hate shopping.
My oldest grandsons fiancée has just opened a charming shop in Malta, New York - which is about 3 minutes away from my new apartment and I have my sewing machine set up there and will be able to continue on with my quilt designing and creating. I already have a commission to create dog beds for some show dogs and they are turning out great. I'll handle the shop a few days a week and be able to go there even when I'm not working to do my thing with the sewing machine.
If any of you are planning on being in the Saratoga area of New York State please let me know and I'll arrange to be at the shop to meet you. Just email me at either AT our Guestbook I'll have pictures available there as well as items I've created for sale.
To all of you who have been in touch with me about recreating my past in photos and film I say thank you more than words can convey. I've received pictures of little Shirley Jean and great big Gilda, other people have sent me copies of movies that I was in - including 'The Scarlet Letter" and that one really surprised me. I had forgotten that I was in it. I was even sent the burlesque film that I made when I first began as a striptease.
Again, thank you a whole heap for your help and good thoughts and prayers.
Shirley Jean
December 2, 2002
We had the Grand Opening of the shop, Created With Love, three weeks ago and had all kinds of things going on. Horseback rides for the kids, free popcorn and cotton candy, a lady had greyhounds there to be adopted - if she approved of you.
We also had some kittens for adoption and I walked into their room, an eleven week old, pure white, except for a dark grey mohawk, kitty looked up at me said, in a teeny, tiny voice, "Meow" and I was adopted on the spot. I named him Loverboy at the time, but he never even looked at me when I'd call him. Then he had cold and when he got well he had lost his voice almost completely so his nickname became Squeeks and he comes running to that moniker. He's doing a great job of training me and we're getting along just fine.
---
(A lot of you have already read this so just ignore it, it's for newbies)
Hi there –
Before I get into the Our Gang/Little Rascals stuff I want to tell you about my life right at the moment. My home went up in flames the last week in July and I lost everything I owned - and my cat, we were together for almost 14 years and she was my best friend.
I lost all my pictures, films and memorabilia. If any of you have anything I can copy I would really appreciate hearing from you. I'm working on a friends computer, but only have access to it when they don't need it. I was insured so I will, in time, have my PC and other living essentials replaced, but it's taking a bunch of time.
For the last few years I've been designing and making quilts and all the projects I was working on are gone. As is my whole stash. Those of you who don't quilt probably won't understand how devastating that is to a quilter, but it's high on the list of things that make you cry.
The night before the fire I had left my purse in the car so I had my drivers license, etc. but I was wearing a nightgown and pair of old, old slippers - not the outfit you really want to go to a fire in.
I'll appreciate hearing from all of you and any help you can give me will appreciated more than I can say.
---
=
August 28, 2002 Update
I'm on my new computer and happy as a clam to have it.
I have State Farm Insurance and I have to tell you - they have been just absolutely great. They've kept me housed, made sure I had walk-around money and been there whenever I needed them.
I'm in the process of finding a place to put my downy head for the rest of my life and having to shop. I can't tell you how much I HATE shopping but there just isn't any other way to get stuff done.
A great many of you have contacted me and sent me pictures, film, clothes and wonderful cards. Thank you, thank you, thank you.
Now - here's the OG/LR stuff.
---